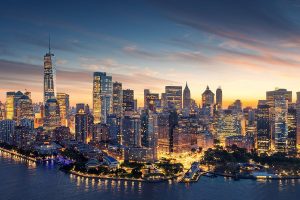 By Frank Fortino
Working in the construction industry, spring weather is always welcome. Even allowing for the occasional April shower, construction site activity ramps up. Projects have a better chance of meeting target dates and completing the work on time.
The activity we've seen during the winter months suggests that New York City construction is continuing its growth. New projects are being proposed, despite reports of turmoil with the Chinese economy and market, which lately resembles a roller-coaster ride with its ups, downs, twists, and turns. I'm frankly surprised that city construction remains as busy as it is.
Even so, our industry appears to be correcting itself. Developers are looking at profits in a different light, giving special attention to scheduling and trying to anticipate future market demand.
A number of changes are on the horizon. While we don't have access to a crystal ball, we at Metropolis do have certain expectations for the future, based on industry activity and our 30-plus years of experience.
Construction Trends and Needs
Part of what's driving construction growth is the ongoing need for housing. Even though Mayor Bill de Blasio is pushing through construction and repair of housing complexes, the need for housing remains great.
For the commercial sector, many office buildings are starting to upgrade their facilities. Of course, location remains important, but commercial tenants have increasingly high standards for technology and amenities. Older properties face stiff competition from new buildings with state-of-the-art features.
While these two factors will continue to be in play, I think that new construction and building alterations will slow down. Taking their place will be much-needed refinements in New York City's infrastructure, including schools, parks, streets, and sidewalks.
Industry Challenges
Thorough research and planning have always been critical for projects, but recent and planned changes in the construction codes, zoning regulations, and site safety requirements will make this up-front work even more complicated. Evaluating potential projects will require careful review of city records for existing legal uses, occupancy, and current conditions, in addition to a comprehensive understanding of new code and zoning requirements. Architects will also need this information, whether designing plans for a new building or modifying an existing structure.
Naturally, as the construction codes and filing processes change and evolve, Metropolis is available to guide clients in creating a strategy to achieve their project goals, while saving time and money.
Bridging the Gap
In fact, one of the greatest opportunities I see in the industry is for code consulting professionals to partner with developers and owners to achieve the success of their projects. Because we work in the gray area where cutting-edge design meets established codes rooted in the past, we have a unique perspective and opportunity to unite the complementary goals of developers and city agencies—creating a richer, more vibrant city, while ensuring the safety of its citizens.
The recent spate of supertall buildings, for example, has created unprecedented challenges and complications. Code consultants, because we are well versed in current requirements, including fire protection and other aspects, need to help the DOB in safeguarding the public, by conveying their message and requirements to owners and design professionals. At the same time, we can apply our in-depth knowledge of code and zoning requirements in helping these visionaries realize their projects in a way that supports the spirit of municipal regulations.
As the construction industry becomes more involved and complex, I hope to see more architectural and engineering graduates join the code consulting profession and help advance safety in our buildings.