This article continues our series on the men and women who make magic happen here at Metropolis Group. If you would like to recommend someone for a future employee spotlight, please email us with your nomination and let us know why you love working with this team member.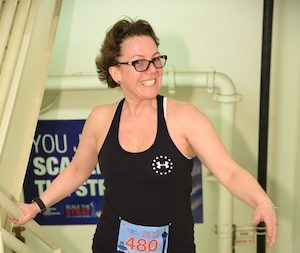 Deana Johnson
Project Manager, Certificates of Occupancy
Metropolis Team Member Since . . . September 2004
Industry Experience
Deana joined the real estate industry as a recent business-school grad, working at a sales and marketing organization for luxury condominiums. Although she advanced quickly, she discovered that she didn't enjoy real estate sales. Deana transitioned to construction the following year, working at an elevator company. During the next five years, she learned the ins and outs not only of elevator design and operations, but also of the New York City Department of Buildings Elevator Division.
When she was ready for her next professional challenge, Deana applied for a position at Metropolis and joined the firm as a project coordinator. She worked closely with Jannys Ramos, starting with Alteration Type 2 filings and moving on to Alteration Type 1s and New Buildings. "Jannys took me under her wing and taught me everything I needed to know about filings, reading and understanding drawings, permitting," says Deana. "Every day was a learning experience."
A few years later, the firm offered her—and she accepted—a position in the Certificate of Occupancy (CO) Division. "It seemed like a good fit and an exciting challenge," she recalls. "COs require intricate knowledge of filing details, permitting, drawing reviews, existing construction vs. proposed." She made the switch more than a decade ago, and she hasn't looked back since.
Role at Metropolis
As the CO project manager, Deana reviews New Building and Alteration Type 1 applications and shepherds these complex projects through securing the initial CO. She studies filed, approved, and permitted projects, and she meets with clients to review and coordinate completion of all project requirements.
"Every project has a timeline," says Deana, "and it's my duty to adhere to that timeline as closely as possible." She accomplishes this challenging task by building relationships with all the project team members—including those at city agencies—based on trust, respect, and communication, with a healthy dose of time management.
Brian Lafferty, Director of the CO Division, considers Deana his "right-hand person." He adds, "Deana is very organized and well-versed in industry procedures. I am able to give her a task, and she will run with it. She has been instrumental to the success of the CO Division over the years."
Favorite Project
Of the many projects that Deana has guided through the CO process, she doesn't have a favorite. "I've worked on many important and high-profile projects," she says. "What's really important for me is to get very clear on the client goals at the start and then to create a plan to achieve those goals." That said, she confesses a special fondness for those projects where team members share her own fanatic attention to detail.
Best Part of the Job
"I love my co-workers. Every day, we communicate, resolve conflicts, listen, learn, collaborate, support one another, and laugh," says Deana. Even though everyone is focused on work, they always find time for the social touches that add a human connection. "We find a moment to stop, breathe, and think—becoming mindful of our strength, connection, and inspiration throughout life's ups and downs." But Deana admits that her view of One World Trade Center is a nice perk.
Not-So-Hidden Talent
In her leisure time, Deana enjoys "tower running," which entails running up tall, man-made structures. (Think Eiffel Tower, where the first recorded tower race took place in 1905.) A friend suggested she try the sport six years ago, after she decided that 5K races were too boring. Since then, she has conquered such formidable towers as the Las Vegas Stratosphere, climbing 1,455 steps up 108 floors in 31 minutes and 37 seconds, and One World Trade Center, which she has scaled three times. Her personal best for the 1,776-foot landmark, with 104 floors and 1,970 steps, is 43 minutes. "Being blessed with asthma, I've learned to live and manage my lung disorder," she says. "It's a constant challenge, but I will not allow it to infringe on my active lifestyle."