By Andrew Pisani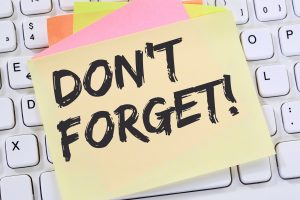 Happy New Year! We hope you enjoyed a healthy and happy holiday season. Now it's back to work, which includes keeping permits and registrations up to date. To help you start the year off on the right track, we've provided an annotated list of common permits that require annual renewal.
Annual Permits
Ansul systems
Boilers, Elevators, and Escalators
Boilers, RPZ, Backflow Preventers. These permits are issued by the Department of Environmental Protection (DEP).
Bulk Fuel Storage. FDNY Bulk Fuel Storage permits apply to storage of 1,100 gallons or more of fuel. Permits for the New York State Department of Environmental Conservation (DEC) apply to above-ground tanks with capacity of 1,101 gallons or more and underground tanks that hold 111 gallons or more.
Business Sign & Billboard permits
Contractor insurance and safety registration
Canopy permits. Contact the Department of Transportation (DOT) for renewals.
Compressor/HVAC permits
Department of Health permits. These permits include Food Handler permits for restaurants.
DEP permits. Also known as the "Right To Know Annual Inventory Report" for all hazardous material stored on premises, including, but not limited to, paint/lacquer, paint thinners and turpentine, ammonium-based products, benzene, compressed gas, motor oil, gasoline, etc. This requirement applies both to large office buildings with maintenance departments and to small businesses, including dry cleaners and funeral homes. If hazardous materials are stored on site, they need to be reported.
Façade reports. For buildings in block numbers ending in 0, 7, or 8, façade reports are due by February 21, 2018.
FDNY Certificates of Fitness (COFs). Building managers need to confirm current licensing of all staff members required to hold a COF. These certificates are issued by the New York City Fire Department (FDNY) and typically good for three years. FDNY requires individuals in dangerous occupations to obtain COFs as confirmation that they know how to use, store, and handle dangerous materials safely.
FDNY permits. These include sprinklers and standpipes, fuel storage, and emergency generators. Don't forget to keep that monthly inspection log in case of a surprise FDNY inspection.
Fire extinguishers
Liquor licenses
Marquee permits
Public Assembly (PA) permits. These include Flame Spread Affidavits for all fabric within the PA space. Remember, FDNY will not always come out and inspect the premises automatically. The PA manager or owner should call the FDNY 30 days prior to permit expiration and schedule re-inspection. Call the FDNY PA Division at 718-999-2436 to set up a re-inspection appointment.
Sidewalk cafés
A Benchmarking Bonus
Also, it's not too early to start thinking about benchmarking scores (if your building is 25,000 s.f. or larger). Starting in 2020, Local Law 33 of 2018 will go into effect. You're no doubt familiar with the prominent letter grades that New York City restaurants display, advertising their latest Health Department inspection results. Local Law 33 will require buildings to post their benchmarking grades (based on benchmarking scores) "in a conspicuous location near each public entrance"—including the front door. More on this in future newsletters.
We hope this list comes in handy as you stay on top of your permit portfolio, but it's not comprehensive. If you need any assistance with the renewal process, please contact Metropolis at 212.233.6344.