By Frank Fortino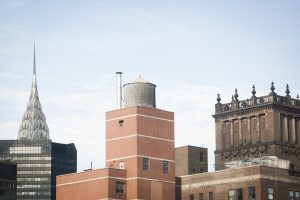 Building owners and managers must take every step to make sure that they comply 100% with Local Law 77. Passed in 2015, the legislation governs cooling tower requirements to curb the spread of Legionella, which causes Legionnaires' disease—a severe form of pneumonia with a 10-15% mortality rate. The city as a whole appears to be failing on the compliance front.
Noncompliance Numbers
As we reported in February 2018, the New York City Department of Health and Mental Hygiene (DOHMH) has cracked down on Legionella compliance, doubling fines and investigating compliance processes. With good reason, it seems.
WNYC released a story on widespread noncompliance just last month. According to state data, more than 1,000 cooling towers in New York City—over 20%—are not up to date with state-mandated inspections. Separate data provided by the city shows that almost half of the cooling towers in the five boroughs are not up to date on reporting. DOHMH inspected nearly 1,000 towers in 2016 (the most recent year for which reporting was finalized). Of nearly 1,000 violations issued, more than 65% were rated "critical," while nearly 20% represented a public health hazard.
A Matter of Public Safety
Keeping good records and reports, as well as monitoring weekly conditions of cooling towers, is only half the battle. The other half is to test, treat, and repair cooling towers and related equipment regularly, in addition to creating a weekly compliance exposure report that documents these efforts.
Areas of compliance include the following:
Annual certification
Routine monitoring
Site water testing
Routine maintenance and repair activities
Biological process control indicator
Routine Legionella testing
Routine inspection
Cleaning of cooling towers
Do these requirements sound complex? They are. But compliance is critical to protecting public health in New York, where Legionnaires' disease increased 78% in 2017 compared to 2016.
Metropolis Group can assist with managing and automating Local Law 77 compliance efforts. For more information, contact us at 212.233.6344.