By Brian Redlein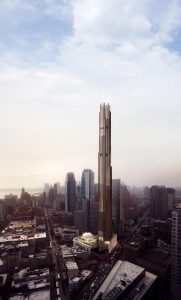 Metropolis recently secured New Building approvals for New York's first supertall building outside of Manhattan. Located in downtown Brooklyn at 340 Flatbush Avenue Extension and connecting to the landmarked Dime Savings Bank at 9 DeKalb Avenue, the residential tower will rise 73 stories, with a planned height of 1,066 feet.
This project received extensive press during its early planning stages, primarily because the plans called for partial demolition of the bank building. The Landmarks Preservation Commission (LPC) approved the "carefully considered" proposal in April 2016, with one commissioner describing the mixed-use tower as an elegant building that remained "respectful of the landmark." The approval represented a huge win, but many challenges remained.
An Intricate Puzzle
Typically, new building construction follows a straightforward process: knock down an existing building, and put in the new one. The project at 9 DeKalb, however, required merging multiple properties and demolishing multiple buildings. In addition to managing complex zoning issues—including height, setbacks, and a triangular lot—our team also faced building code challenges. Specifically, the bank required certain upgrades, while maintaining the landmarked interior.
Multiple properties meant tackling the demolitions in a phased approach. We partnered with the Buildings Enforcement Safety Team (BEST) Squad at the Department of Buildings (DOB) on a strategy for the foundation work, which kept the project moving forward until the final tenant vacated the block—eighteen months later.
A Team Effort
More than one year had passed since the DOB last reviewed the project files. The agency could easily have decided to start their review from the beginning, a process that could have taken six months for such a complex project. Thanks to the preparation and planning of our team—led by Executive Project Manager Liliana Ovalles—the DOB approved the final demolition and New Building permits in a few weeks.
Keeping this project on track required close coordination by all team members, and we commend everyone who continues to support its success. This same level of collaboration allowed us to secure energy code approval for the residential tower in a single pass.
To discuss how Metropolis Group can help develop and execute a strategy for your next project, call 212.233.6344.