By Frank Fortino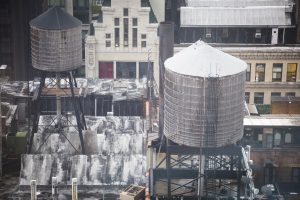 Two months into the New Year, and we're hearing the same story: cooling tower violations are being issued throughout New York City, and it's not even spring.
With Legionnaires' disease on the rise in 2017—a 78% increase in the five boroughs, compared to 2016—the general consensus is that the New York City Department of Health (DOH) is saying "enough is enough" when it comes to lenient Legionella compliance. Fines that were previously dismissed are now doubling, and inspectors are digging even deeper into compliance processes.
Automated Compliance
The good news is that Metropolis Group can help you manage and fully automate cooling tower jobs and activities related to Local Law 77 compliance. We have partnered with Vitralogy, a firm that has created an end-to-end solution to help facility managers and engineers comply with city regulations and mitigate risks related to Legionella.
The app-based Vitralogy platform automates, coordinates, and documents all Local Law 77 requirements.
All jobs are pre-scheduled and available for engineers and service providers, including conditional jobs like emergency water treatment. Job creation and scheduling rules comply with New York City regulations.
The platform sends a 10-day reminder to service providers before 90-day tests are due. If a vendor does not acknowledge the notification, account managers will call the service provider for confirmation. Building engineers receive alerts for any missed or late jobs.
All jobs and activities, including corrective actions, are documented. Summary PDFs are sent to the engineer upon completion. Test results, 90-day inspections, and annual certifications can all be transmitted to the New York State portal upon completion.
The software notifies engineers and service providers of outstanding compliance tasks or issues. In addition, engineers can create custom alerts for important events, like inspection results, elevated bacteria count, or urgent corrective actions.
Compliance Exposure. Each week, building management receives a weekly exposure report, which identifies non-compliance issues, related fines, and associated vendors. The detailed report provides complete documentation and transparency, including communication logs.
Protecting the Public
We are concerned that owners, developers and managers will not be able to get a handle on this situation until it is too late. Legionnaires' disease—a severe form of pneumonia with a 10-15% mortality rate—is a serious issue here in New York City. Reported cases continue to rise, despite the fact that New York is the only state to adopt regulatory measures to test for traces of Legionella. The disease has been a huge issue in Europe for years. We need to become very active in taking control of this problem as best we can.
To assist with this effort, we will provide reminders and work with you to ensure compliance with city regulations for cooling tower requirements. Call Metropolis Group at 212.633.2344 if you have questions or concerns regarding this matter.