By Wayne Sheppard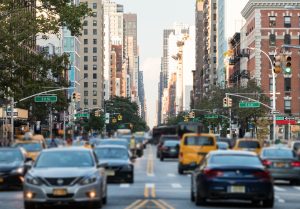 To help you plan your travels—from daily commutes to road trips—we've included a list of New York City Department of Transportation (DOT) holiday suspensions for alternate side parking (ASP), as well as anticipated heavy traffic days.
2018 Holiday Alternate Side Parking Suspension
The New York City DOT has published its list of 2018 Holiday Alternate Side Parking Suspensions. The city suspends ASP rules, which allow street cleaning, legal and religious holidays. New York also makes emergency suspensions due to weather and other emergencies.
Some metered parking zones also have ASP regulations. However, even when ASP is suspended for a holiday, emergency or other reason, parking meters still remain in effect.
Monday, February 12 – Lincoln's Birthday (Observed)
Wednesday, February 14 – Ash Wednesday
Friday, February 16 – Asian Lunar New Year (Year of the Earth Dog)
Monday, February 19 – Washington's Birthday (Presidents Day)
Thursday, March 1 – Purim
Thursday, March 29 – Holy Thursday
Friday, March 30 – Good Friday
Saturday-Sunday, March 31-April 1 – Passover (1st/2nd Days)
Thursday, April 5 – Holy Thursday (Orthodox)
Friday, April 6 – Good Friday (Orthodox)
Friday-Saturday, April 6-7 – Passover (7th/8th Days)
Thursday, May 10 – Solemnity of Ascension
Sunday-Monday, May 20-May 21 – Shavuot (2 Days)
Monday, May 28 – Memorial Day*
Friday-Sunday, June 15-17 – Eid al-Fitr (Idul-Fitr)
Wednesday, July 4 – Independence Day*
Wednesday, August 15 – Feast of the Assumption
Tuesday-Thursday, August 21-23 – Eid al-Adha (Idul-Adha)
Monday, September 3 – Labor Day*
Monday-Tuesday, September 10-11 – Rosh Hashanah
Wednesday, September 19 – Yom Kippur
Monday-Tuesday, September 24-25 – Succoth (2 Days)
Monday, October 1 – Shemini Atzereth
Tuesday, October 2 – Simchas Torah
Monday, October 8 – Columbus Day
Thursday, November 1 – All Saints Day
Tuesday, November 6 – Diwali, Election Day
Monday, November 12 – Veterans Day (Observed)
Thursday, November 22 – Thanksgiving Day*
Saturday, December 8 – Immaculate Conception
Tuesday, December 25 – Christmas Day*
* Major legal holiday. On these days, stopping, standing and parking are permitted except in areas where rules governing these actions are in effect seven days a week. On all other holidays, only street cleaning rules are suspended; other regulations remain.
You can download a printable calendar on the DOT website.
Gridlock Alert Days
Every year, during the holiday season, you can expect to encounter even heavier traffic than usual throughout the five boroughs. DOT designates Gridlock Alert Days for the busiest days. Whether traveling to work or for leisure, DOT recommends walking, biking, or taking public transportation whenever possible on these days.
While DOT typically releases Gridlock Alert dates in mid-November, we anticipate the following schedule, based on years past:
Friday, November 16
Wednesday, November 21
Wednesday, November 28
Friday, December 7
Wednesday, December 12
Thursday, December 13
Friday, December 14
Wednesday, December 19
Thursday, December 20
Friday, December 21
For the most up-to-date information, you can check out DOT traffic advisories online for the week and weekend.
If you have any questions, please contact Metropolis at 212.233.6344.