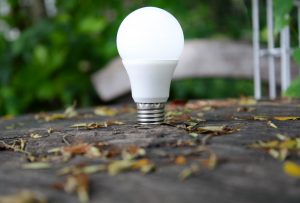 By George Crawford
Just a few years ago, utilities were priming the LED retrofit pump with high rebates. Rebate funding often covered the entire cost of LED products for qualifying projects. Today rebates are much lower, covering maybe 25% of the cost of LED products for a commercial retrofit—even less for residential projects.
Given the trend, LED retrofit rebates will likely drop, becoming an even smaller part of any potential LED retrofit. However, a new economic factor offers greater value than any rebate: namely, the improved performance of modern LED products.
Economics of Retrofits
Rebates offer a one-time benefit that lowers the cost of the retrofit. Product performance, on the other hand, generates lower utility bills year after year. Performance can be measured by lower electricity consumption and by the increasing longevity of LED products. The longer the useful life of the installed LED products, the better the economic return from year-to-year savings and fewer lamp replacements. In short, retrofits that use the highest-quality and longest-lasting LED products generate the best investment returns.
Commercial Case Study
An existing commercial facility in Queens uses a mix of lighting products—including troffers, high bays, fluorescents, and incandescents—totaling 3,200 individual lamps that consume 2 million kWh annually. Using a Con Ed billing rate of $0.15, their annual electric bill is $300,000.
The cost of the LED product selected to replace the existing 3,200 lamps is $200,000. A $50,000 rebate from Con Ed lowers the net product cost to $150,000. The facility will pay an additional $50,000 for in-house electricians and building staff to perform the installation, bringing the total cost of retrofit to $200,000.
With an annual utility bill savings of $200,000, this retrofit will pay for itself in one year.
Longer LED Life = Higher ROI
After the first year, the $200,000 annual savings will fund the economic return on the retrofit. Consider the impact of LED product life span:
If the LED products purchased for this retrofit have a five-year useful life, this project will generate total savings of $800,000 by the end of the fifth year.
Extending the useful life of these LED products to 10 years will increase the project's accumulated savings to $1.8 million.
The lesson? Start the product selection process by focusing on manufacturers that offer quality LED products with extended warranties.
Product Recommendations
We recommend investigating Universal Lighting, which has a line of LED products backed by 10-year warranties. We also recommend bringing in someone who is familiar with engineer consulting in NYC.
The LRA and LRK retrofit assembly product series are designed to retrofit existing fluorescent lighting in basement and service areas. These products have an L 70 rating, which means that 70% of the lumen output is certified for 140,000 hours, or 24/7 usage over 15 years.
The TerraLUX line of stairwell fixtures, the SL Series, comes with a 10-year warranty. These fixtures have bi-level and battery back-up options, required by code in many jurisdictions. In addition, TerraLUX offers retrofit options for existing hallway lighting fixtures, also with a 10-year warranty.
To achieve the best result, we recommend modeling retrofit projects with the selected LED product. For the project model itself, work with a market partner with access to Con Ed modeling technology and a proven track record of accessing Con Ed rebates for qualifying projects. Rebates may be lower, but Con Ed involvement—in the form of retrofit inspections and oversight—enhances the success of any retrofit.
George Crawford leads Green Partners LLC, which identifies money-saving solutions for owners of commercial and residential properties in New York City. For help with your energy needs, please contact George by email at gcrawford@greenpartnersny.com.