By George Crawford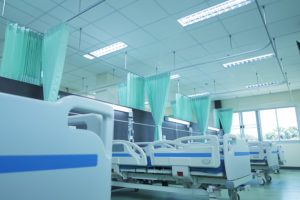 With the passage of Int. No. 1253-C, New York City has set more favorable limits on carbon emissions for nonprofit buildings, including health centers, hospitals, and healthcare incentive plan (HIP) centers. While these limits are more forgiving than those mandated for other covered buildings, these lower emissions standards must still be met.
The carbon reduction requirement for nonprofit buildings is a 15% reduction of carbon emissions from their consumption levels in 2018 (their base year).
The good news is that literally every nonprofit building can achieve this 15% reduction by simply lowering their electric consumption, without taking additional measures. The recommended solution to reduce electric consumption is to initiate an LED lighting upgrade, which will lower carbon emissions to the required levels. (By the way, an LED upgrade will also meet the requirements of Local Law 88.)
The bad news is that, if a building does not meet these lower energy consumption levels, it will then be subject to a penalty tax.
To qualify for this favorable 15% carbon emissions reduction compliance opportunity, nonprofit buildings must meet a filing requirement due on or before July 21, 2021.
Additional Carbon Emission Requirements
Buildings also need to take the following measures as part of the mandated carbon emission regulations.
Adjust temperature set points for heat and hot water to reflect appropriate space occupancy and facility requirements.
Repair all heating system leaks.
Maintain the heating system, including, but not limited to, ensuring that system component parts are clean and in good operating condition.
Install individual temperature controls or insulated radiator enclosures with temperature controls on all radiators.
Insulate all pipes for heating and/or hot water.
Insulate the steam system condensate tank or water tank.
Install indoor and outdoor heating system sensors and boiler controls to allow for proper set points.
Replace or repair all steam traps such that all are in working order.
Install or upgrade steam system master venting at the ends of mains, large horizontal pipes, and tops of risers (vertical pipes branching off a main).
Upgrade lighting to comply with new system standards set forth in section 805 of the New York City Energy Conservation Code and/or applicable standards referenced in such energy code on or prior to December 31, 2024. This provision is subject to exception 1 in section 28-310.3, provided that July 1, 2010, is replaced by January 1, 2020, for the purposes of this section.
Weatherize and air-seal where appropriate, including windows and ductwork, with focus on whole-building insulation.
Install timers on exhaust fans.
Install radiant barriers behind all radiators.
George Crawford leads Green Partners LLC, which identifies money-saving solutions for owners of commercial and residential properties in New York City. For help with your energy needs, please contact George by email at gcrawford@greenpartnersny.com.