This article continues our series on the men and women who make magic happen here at Metropolis Group. If you would like to recommend someone for a future employee spotlight, please email us with your nomination and let us know why you love working with this team member.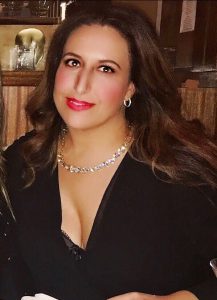 Cristine Polito
Project Manager
Metropolis Team Member Since . . . March 2012
Industry Experience
While earning her degree at Drake Business School, Cristine routinely attended social events with friends who worked for one of New York's larger code-consulting firms. She met the owner of the company, who told her, "You're going to work for me one day." Their paths continued to cross, and after graduation, she agreed to interview with the firm, where she accepted a position as both a project manager and the owner's executive assistant. "I immediately saw how much potential growth there was in the industry," recalls Cristine. "I saw this opportunity as something that could take me far."
After seven years, Cristine felt like she had reached a plateau in her career but still enjoyed her work. Online research brought her to the Metropolis website, where she expressed interest in joining the team. The company called her on a Friday. She interviewed on Monday—and received a job offer on Wednesday. "Everything happened quickly," says Cristine. "I was just testing the waters to see what other opportunities were out there." She quickly realized that she could continue to advance her knowledge and skills at Metropolis, and she has proceeded to do just that during the past seven years . . . and counting.
Role at Metropolis
As a project manager, Cristine reviews drawings from architects and engineers for potential compliance issues. Then, she secures agency approvals and work permits to keep the project moving forward. According to Senior Associate Andrew Pisani, "Cristine is a great asset in her work ethic and client relations and her ability to get the work out in a timely manner."
Cristine attributes her success to her love of challenge. "Every project is different because every building is different," she says. "Everything that comes across your desk is its own beast. Forms and paperwork may be the same, but the scope of work and the road to approval are always unique. It's nonstop, and I really enjoy it."
Favorite Project
Of the many projects Cristine has worked on, Twitter's Manhattan office holds a special place in her heart. The Chelsea property consists of two early-20th-century warehouses that have been joined together. She has shepherded more than 40 filings on the project during the past two years, and she is now working on the final phase: roof amenities. "I remember walking through the office spaces when the buildout was done and thinking, 'Wow. I had something to do with this,'" Cristine says. "It was amazing."
Best Part of the Job
Cristine finds tremendous satisfaction in many aspects of her work, but she especially cherishes the rare opportunities when she has walked through the finished product. "For the most part, we only see the project in drawings," she explains. "Going to the site and seeing the end results of everyone's hard work makes it proud moment, knowing that, in some ways, you put your stamp on the project."
Not-So-Hidden Talent
Cristine holds a third-degree black belt in taekwondo. Growing up, she was a natural athlete who enjoyed participating in a wide range of sports. She started studying the Korean martial art at the age of nine and earned her first black belt at twelve. Even though she stopped training at nineteen, she continues to maintain her skills. "I work out a lot and mix my training with cardio kickboxing," says Cristine. "Doing what we do can be very stressful. Kicking and punching a bag just feel great afterward, especially if you've had a really rough day."