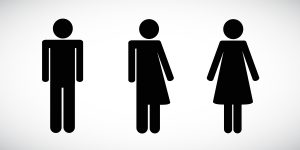 By Tynesha Goode
The New York City Department of Buildings (DOB) recently issued a Technical Bulletin to guide building owners on the requirement to make single-occupant toilet rooms available to persons of any gender. In addition, the bulletin includes specific guidance on gender-neutral signage for such toilet rooms.
Local Law 79 of 2016 established that all single-occupant toilet rooms must be made available for individuals of any gender. Such toilet rooms are equipped "with no more than one water closet and no more than one urinal," have a lockable door that can be secured from the interior, and afford privacy for a single user. The law did not require any physical alterations for these facilities, although it did call for the posting and maintenance of gender-neutral signage.
Signage Requirements
Gender-neutral signage should be posted on the wall next to the toilet room, at a minimum height of 48 inches above the floor and a maximum height of 60 inches.
While DOB does not specify the images required to demonstrate gender neutrality, the bulletin provides an example, which depicts the standard male and female stick figures, as well as a third figure that combines the two.
Any single-occupant toilet room without gender-neutral signage can be reported to New York City using the 311 complaint system.
For questions concerning the above requirements, contact Metropolis Group at 212.233.6344 for assistance.