By Frank Fortino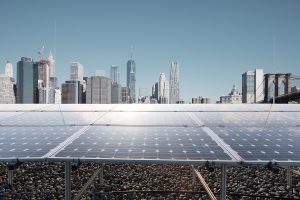 New York City has raised the bar in fighting climate change. On April 22, 2019, Mayor Bill De Blasio announced New York City's Green New Deal, captured in the report OneNYC 2050: Building a Strong and Fair City. Since the original release of OneNYC in 2015, the document has been updated with annual progress reports, but this year's update is a big one.
The city's revamped strategic plan consists of $14 billion in new and committed investments, legislation and action at the city level to achieve nearly 30% in additional emissions reduction by 2030—the critical point of no return for catastrophic climate change. Combined with previous sustainability initiatives, New York City is tracking to reduce emissions 40% by 2030, compared to a 2005 baseline. The goal is to achieve full carbon neutrality by 2050, using 100% clean electricity.
Not only does the plan tackle the threat of climate change head-on, but it also takes on economic insecurity, inequity and global intolerance.
Industry Impact
The new legislation includes several sustainability measures taken by the city, including pursuit of a 100% carbon-free electricity supply for city government operations. Much of the implementation, however, will require a heavy investment from the real estate sector.
Reducing Greenhouse Gas Emissions. Introduction 1253-C, sponsored by Council Member Costa Constantinides, requires all large existing buildings of 25,000 square feet or more to make efficiency upgrades that decrease energy usage and emissions. The legislation, which affects 50,000 buildings citywide, sets greenhouse gas levels based on the occupancy group of the property. The limits are calculated to require emissions reductions from the highest emitting 20% of buildings in each occupancy group for the first compliance date, beginning in 2024, and the highest emitting 75% of buildings in each group for the second compliance date, beginning in 2030. Noncompliance will result in steep penalties.
Constructing Net-Zero Energy Buildings. In support of the 2018 Net Zero Buildings Declaration, the city will work toward net-zero energy for all newly constructed buildings by 2030. New York will ban all-glass façades in new construction unless the designs meet strict performance guidelines. In addition, existing glass-walled buildings can expect further regulation to improve their energy performance.
To help pay for these upgrades, the city will work with the city council and local financial institutions to provide access to Property-Assessed Clean Energy (PACE) financing, a low-cost mechanism for making energy-efficiency upgrades.
The Future Is Now
Other elements of the strategy include infrastructure improvements to improve congestion, creation of public spaces and People Priority Zones, and universal health coverage. The plan seeks to create new jobs and to improve the overall well-being of New Yorkers.
Fighting climate change, increasing our resiliency, and securing a livable future for the next generations are all critical endeavors. These efforts will not come easily, and much of the responsibility will fall squarely on the shoulders of our industry.
As these changes crystallize in new regulations, we at Metropolis Group are committed to helping our clients navigate these rough waters through sound strategy and efficient execution.