By Rose Perez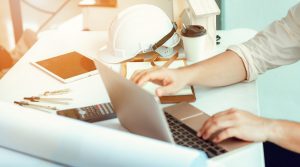 Last month, we covered the migration of limited alteration applications (LAAs) and emergency work notifications (EWNs) to DOB NOW: Build, the department's online self-service platform. The changes started going into effect on October 2, 2018, and the questions began the same day.
The tech team at the Department of Buildings (DOB) have been very quick to respond with guidance, even publishing a resources page dedicated to LAAs. While we're still in the early stages of the transition, DOB staff is doing their best to answer all questions in a FAQ section, and they're continuing to update the system to smooth out rough edges.
DOB NOW: Build
To start, many users aren't familiar with the new platform, which was launched on a limited basis in 2016. The good news is that the system uses the same login credentials as the DOB's eFiling system. To access DOB NOW:
If you don't have an active account or need to reset your password, you can do both at the eFiling website.
Accepted LAA Jobs
Currently, DOB NOW: Build accepts the following LAA job filings:
Water work types
Gas work
Oil burner work
Fire suppression work types
Emergency work notifications (EWNs)*
*Special notes for EWNs:
Remember that EWNs are only valid for two (2) business days, after which they expire. You must file an LAA within those two days, or your EWN number will not be valid.
If you need more time, however, you can renew your EWN as many times as needed (while still active) until you are ready to file the LAA.
When filing the LAA, make sure you reference the EWN# in the work description.
LAAs That Require an L2 to Override/Resolve a Violation
If your LAA filing needs an L2 form to address a Work Without a Permit or Stop Work Order violation, you will need to use the DOB's online help tool and upload the L2 form, the LAA application, and any supporting documents required. Your application will remain in pre-file status until the LAA Division reviews the L2 submission and grants permission to proceed.
LAA: Audit Reviews
The DOB NOW: Build system now accepts responses to Audit Reviews. As a reminder, the LAA Division will audit any signed-off LAA that may not comply with applicable codes. Licensees will need to file a new LAA to answer an audit.
Administrative Sign-Off Letters
The LAA Division will continue to accept Administrative Sign-Off Letters in person at the Manhattan borough office.
If you have any questions or concerns about how these procedures, call Metropolis Group at 212.233.6344.