By Frank Fortino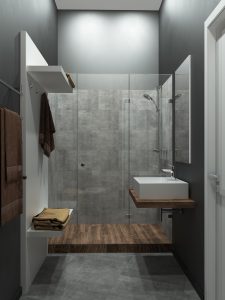 Over the years, many owners and tenants have come to us with questions on legally allowing tenant showers in office spaces. Such amenities seem to be in higher demand than ever, with more people biking to work or exercising to keep their health in check. Add in the competitive pressures of today's environment, and it's no surprise that many executives would benefit from the convenience of having a private bathroom with a shower.
Historically, the New York City Department of Buildings (DOB) and other municipal agencies have frowned upon private tenant bathrooms and executive showers. The overriding concern is that such conveniences can lead to using the space for living purposes.
Shower Requirements: Rigorous, Not Impossible
Having said that, showers are permitted in most commercial districts under the following circumstances:
The office fit-out complies with the intent of the zoning outline.
Buildings in manufacturing districts do not have an apartment layout. (Shower approvals are extremely difficult to obtain in manufacturing districts.)
If planning to file for a layout that includes executive showers, this intent needs to be pointed out to the DOB examiner. Drawings will need to provide full disclosure, showing the location and layout of the proposed space.
The DOB will expect to see an AI1 (Additional Information) form with the following notes, specific to the project:
The project must show compliance with Technical Policy and Procedure Notice #1/06, which prevents shower access from public corridors.
The proposed shower must comply with all building code requirements, including accessibility, as outlined in Chapter 11 of the 2014 Building Code.
The owner or tenant must provide an affidavit committing to remove the shower upon vacating the space. DOB requires submission of the affidavit among application documents prior to approval.
A DOB plan examiner will need to review and accept the above-mentioned requirements to secure approval for the proposed shower.
If you have any questions or need assistance, please contact Metropolis Group at 212.233.6344.