By Liliana Ovalles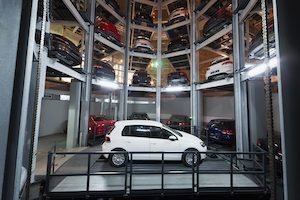 With New York City real estate at such a premium, it's no surprise that developers are exploring automated parking garage systems as a way to save space. If you're considering this option, be sure to plan for evaluation by the Office of Technical Certification and Research (OTCR).
OTCR oversees the technical certifications of approved agencies and entities that perform inspections, tests, and material approvals. The office also evaluates new technology that enhances safety, sustainability, and efficiency, including battery energy storage systems and indoor automated parking garage systems.
OTCR Evaluation Process
To secure OTCR approval, applicants need to complete specific steps need to secure a Letter of No Objection (LNO) from the New York City Fire Department (FDNY) and submit construction documents to borough office. Assuming everything is correct, OTCR will issue a Conditional Acceptance Letter.
DOB will issue work permits after all construction documents receive approval. These documents include the zoning analysis and the fire protection plan, which requires FDNY review and approval.
Applicants then install, inspect, and certify the systems, as specified on the OTCR Conditional Acceptance Letter and the FDNY LNO. OTCR will issue a Final Acceptance Letter after certification. Then, project sign-off proceeds as usual.
Submission Requirements
OTCR requires applicants to submit the OTCR2 Application and the following support documentation:
General information (address, DOB job number)
Project Narrative

Filing information (project type, installation floors)
Building information (property owner and operator, main building description, parking floor description, fire protection information, etc.)
Automated parking system information (system type, attendant/non-attendant, capacity, safety measures, etc.)

Proposed Plans

Site plan
Parking plan, including floor layout(s)
Building section with parking floor details
Fire protection plan

Manufacturer's literature and published maintenance plan
List of equipment and material used in the garage system
Structural calculations, signed and sealed by a professional engineer
Copy of FDNY LNO
The above requirements should be accompanied by a $600 processing fee, payable to the "NYC Department of Buildings," and submitted to the OTCR.
If you have any questions or need assistance, contact Metropolis Group at 212.233.6344.