By Brian Redlein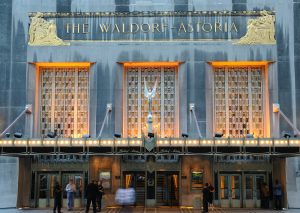 Nearly four years have passed since the Hilton Hotel group announced its sale of the Waldorf Astoria to China's Angbang Insurance Group. Despite some excitement in the new owner's leadership ranks, the conversion of the landmark hotel into high-end condos—with a hotel chaser—is continuing as planned.
In fact, Metropolis Group has been part of the planning process for two years now.
Complex Approvals
The high-profile project involves multiple layers of complexity, beyond the landmark status of the Art Deco building. To start, the building—which occupies the entire block of Park Avenue between East 49th and 50th Streets—is seriously overbuilt by modern code standards. And since the building opened back in 1931, many building codes have come and gone. Consequently, the project team has been juggling multiple codes, determining which one applies to each piece of the project.
But the fun doesn't stop there. The building also offers complicated egress challenges due to the public assembly spaces. Converting the hotel to residences introduces new light and ventilation requirements. These new, big rooms have to be designed a certain way, and each floor plan is different.
Team Effort
Throughout the process, Metropolis has worked closely with the Department of Buildings (DOB) Construction Division and the Fire Department of New York. The massive renovation of this historic building meant that everything was coming out—fire protection, stairways, etc. We had many on-site meetings with both agencies to develop solutions that met their respective requirements to ensure everyone's safety. For example, removing all the fire protection meant securing approvals to change all the standpipes over to temporary systems. The challenge was great, but we resolved all issues.
Despite the project's complexity, approvals have gone smoothly, thanks to having the right team in place. We worked with commissioners and plan examiners at the DOB early in the planning stages and kept the agency informed throughout the process. As a result, the demolition has been going full-tilt for months.
Next Steps
Now we're strategizing the next portions of the project, including both ongoing demolition and new construction. Naturally, dealing with a building that's nearly 100 years old is more complicated than building a new structure from the ground up. Throughout the project, new challenges emerge that require creative solutions, but the end result makes the effort worthwhile.
Looking for ways to keep your complex project on track? Contact Metropolis Group at 212.233.6344.