By Wayne Sheppard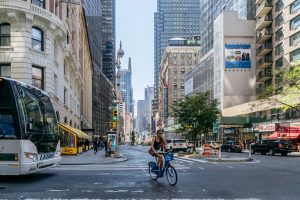 With Memorial Day behind us, summer is fast approaching. Here in the five boroughs, the warmer weather means that Summer Streets is just around the corner. The annual event opens nearly seven miles of New York City's streets to the public, providing space for healthy recreation and encouraging New Yorkers to use more sustainable forms of transportation.
A project of the New York City Department of Transportation (DOT), Summer Streets takes place on the first three Saturdays in August, between the hours of 7:00 a.m. and 1:00 p.m. Event dates for 2018 are as follows:
August 4
August 11
August 18
The route extends from the Brooklyn Bridge to Central Park, along Park Avenue and connecting streets. An interactive map is available on the DOT website.
If your construction project is located along the Summer Streets route, now is the time to start planning. Contact Metropolis at 212.233.6344 for assistance with keeping your projects on track.