By Brian Redlein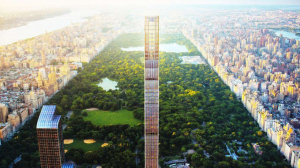 In case you missed the construction update in New York YIMBY, the supertall skyscraper at 111 West 57th Street is continuing its climb to 1,428 feet. In March, the building passed its first of 12 setbacks, which will culminate in a steel truss cap that houses the 800-ton-mass damper. The setbacks will create a tapered silhouette on what will be the world's skinniest skyscraper—and the second-tallest building on 57th Street.
Metropolis was heavily involved during the planning and pre-construction stages, when we navigated multiple agency approvals and various building codes. Since we secured the necessary permits, almost all of the project activity has been taking place on the construction site, as it should be. To date, the building is less than 300 feet away from supertall-status (300 meters, or approximately 984 feet), but it still blends in with the surrounding structures. That's about to change, as the building's unique profile emerges in the months ahead.
For years, 111 West 57th has existed only as a concept and rendering. Now that image is becoming reality. As construction continues, our team will assist with amendments to address changes that have occurred since plan approval. Then, we'll start putting together a strategy for the sign-off process to begin occupancy of the original, landmarked portion of the building, Steinway Hall.
In the meantime, we're staying busy with other projects and enjoying the view as yet another "baby" grows up.
If you're working on—or planning—a complex construction project, contact Metropolis Group at 212.233.6344 to discuss how achieve your design vision according to the applicable building and zoning codes.