By Maria Esslinger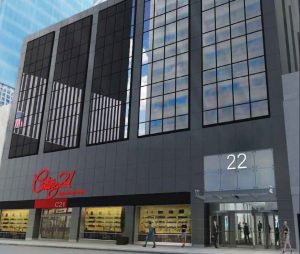 Big changes are coming to the property at 22 Cortlandt Street, the home of Metropolis Group. Following nearly two years of planning, Metropolis Group has secured the approvals for the multimillion-dollar project, which is scheduled for completion in August 2018.
Some of the changes—such as the recently upgraded air-conditioning upgrade—will be less apparent, although they will enhance the overall property experience for employees and visitors.
Upcoming Changes
The renovation project includes the following scope of work:
Elevator interiors. All of the elevators will receive a new interior. Installation will take place one car at a time to minimize disruption, with anticipated completion in late June 2018.
New lobby. Employees and guests will be greeted by an updated lobby, featuring white marbleized walls, bright LED lighting, and slate-colored floors. The space will also include a new reception desk and an "active display" wall. The components will be installed on a phased schedule. Work should be completed around July 2018.
New entrance. A steel canopy with prominent building identification will frame the new revolving and ADA-entrance doors, scheduled for installation around August 2018.
Façade facelift. The project includes resurfacing and sealing the grey stone exterior façade with mirrored glass, with a target completion date of August 1, 2018.
We apologize in advance for any short-term inconvenience created during the renovation process. Thank you for your patience. We are confident the finished product will enhance your experience of arriving at our headquarters.