By Frank Fortino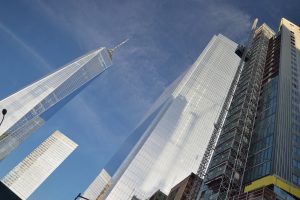 As we kick off the New Year, the future looks bright not only our industry, but also for New Yorkers in general. Here at Metropolis Group, we've seen an extraordinary level of construction activity. Our experience supports the findings of the New York Building Congress in its latest Construction Outlook, which estimates nearly $150 billion in construction spending between 2017 and 2019.
More Housing, More Jobs, More Opportunities
According to the report, published last October, the city generated nearly 27,000 new housing units in 2017, with an additional 46,000 units expected by the end of 2019. Residential spending of $11 billion, which includes both new construction and alterations to existing buildings, represents less than one-quarter of the year's total forecasted construction spending, $45.5 billion. The remaining $44.5 billion is almost split between non-residential construction—including office space, institutional development, government buildings, and hotels—and government investments in the infrastructure.
All told, this combination of new developments and renovations created nearly 150,000 jobs throughout the five boroughs last year. This activity helps our local communities, creating strength and balance in families and households. As investors and private builders continue to capitalize on the opportunities in our city, we'll add more housing with community amenities, which in turn will decrease crime.
Supporting Our Communities
In addition to these economic opportunities, several nonprofit organizations continue to shine as beacons of hope. Both the Empire Ball, hosted by the Real Estate Division of the Diabetes Research Institute (DRI) Foundation, and the Christmas Tree Ball, supporting the Madison Square Boys & Girls Club, represent two events where New Yorkers come together for the benefit of our communities.
For the 2017 Empire Ball, more than 800 real estate and construction professionals raised $1.15 million to support cure-focused diabetes research.
Last year's Christmas Tree Ball produced more than $1.5 million to create opportunities for the most under-resourced youth in New York City.
The Heritage Ball, hosted by AIA New York and the Center for Architecture, not only recognizes leading architects, but also engages bright young minds in exploring the world of architecture. This event supports our industry today and in the future, while creating new opportunities for children in grades K-12.
Looking Ahead
It's an exciting time for our industry and our city. The challenges we face are far outnumbered by the opportunities. Most exciting of all, the growth in construction and real estate development has a direct impact on improving quality of life in our local communities.
My wishes are for everyone to have a wonderful and prosperous New Year.