By Frank Fortino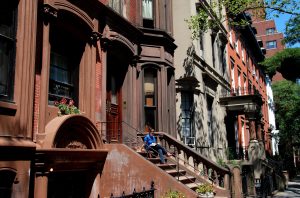 It's an exciting time here at Metropolis. Not only are we working with more clients beyond the five boroughs than ever, but we're also continuing to make an impact here in New York.
On July 13, 2017, two of our projects were honored at the Building Brooklyn Awards. This annual event recognizes recently completed construction and renovation projects that enrich the neighborhoods and economy of this thriving borough.
429 Kent Avenue – Residential: Condominium
Known as The Oosten, this new seven-story building consists of four large quadrants, built around a large interior courtyard. The façades feature alternating custom brick walls and glass window walls. The design elements recall a townhouse scale to make the streetscape experience of this large building more intimate—and in line with the rest of the neighborhood.
We assisted the project team with the construction strategy and the occupancy strategy. The project was initially filed as a single, large building. As construction progressed, each quadrant followed its own time line. We worked with ownership on splitting the project into four separate buildings. This shift allowed the developer to open the property to new residents sooner.
95 Evergreen – Neighborhood Catalyst
At 95 Evergreen, we helped convert a 150,000-square-foot industrial building into office space for creative firms—tech start-ups, media companies, advertising. The glass, brick, and concrete façade remains true to the building's historic character, and the lobby features a backlit montage of 8,400 beer bottles manufactured by Schlitz Brewery, the former tenant.
Because this property was an older industrial building, it presented challenges in conforming to today's zoning and construction codes, in addition to accessibility requirements. We worked closely with the client from the start to develop a phased construction strategy. This approach allowed the client to begin construction, while we secured the necessary approvals for subsequent phases.
We are honored to have assisted with these two outstanding projects, which were recognized by the Brooklyn Chamber of Commerce and its Real Estate & Development Committee.